Feel at Home
Schlosshotel  Marienbad
About Us
A destination for those who long for pleasant relaxation.
Schlosshotel  Marienbad is located in the spa town of Marianske Lazne. This town spreads out over Slavonsky woods at a height above sea level of 650m. Schlosshotel  Marienbad is located on the outskirts of the city. 3 Km from the Singing Fountains and colonnades.
Schlosshotel  Marienbad offers a wide range of services all under one roof (accommodation in Castel Art furnished rooms, catering, a balneotherapy rehabilitation center, wellness center, and underground garages, etc.)
Welcome to Schlosshotel Marienbad!
I hope you'll feel at home here and enjoy every minute of your stay.
Looking forward to meeting you,
Ivan, Your Host, and the Owner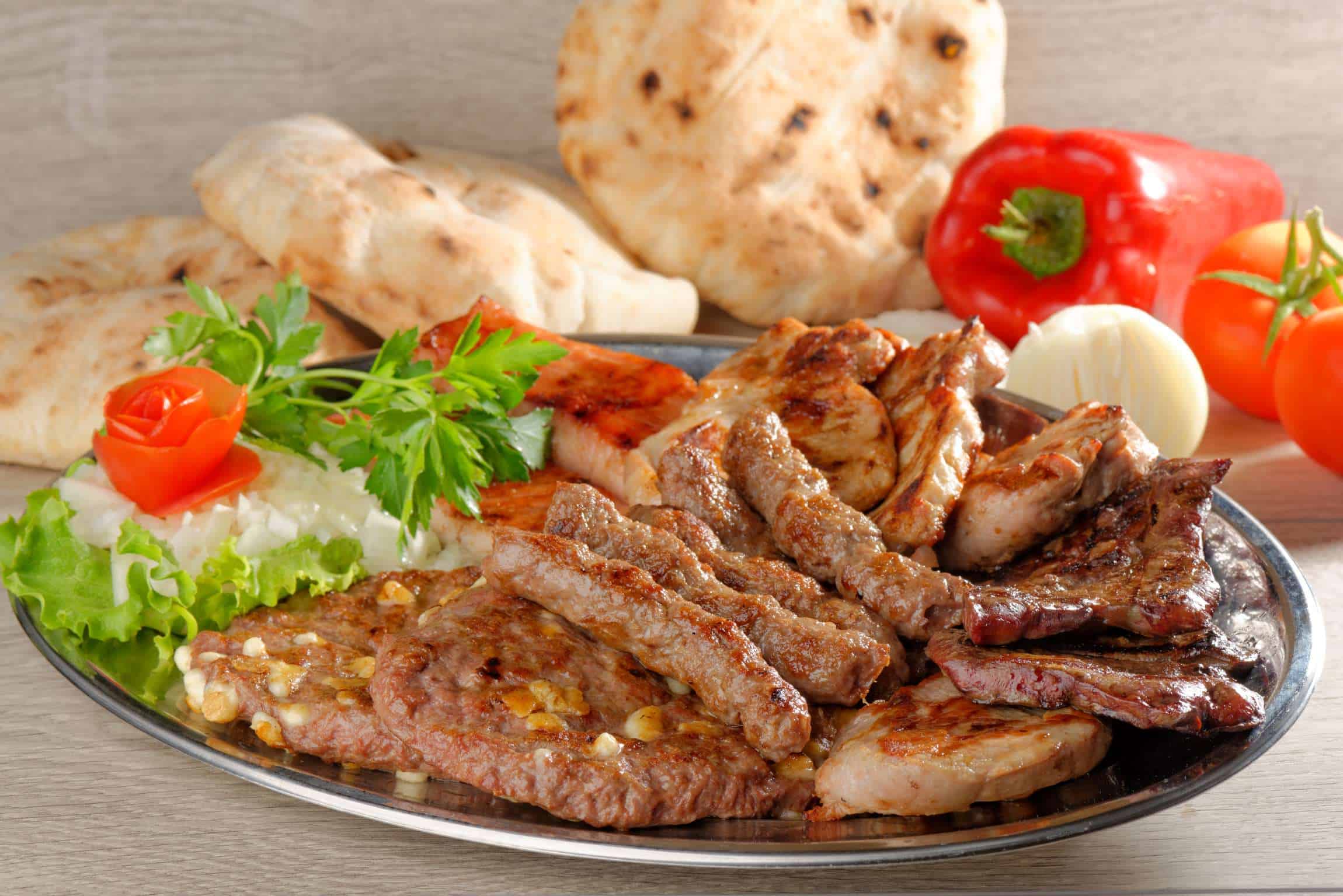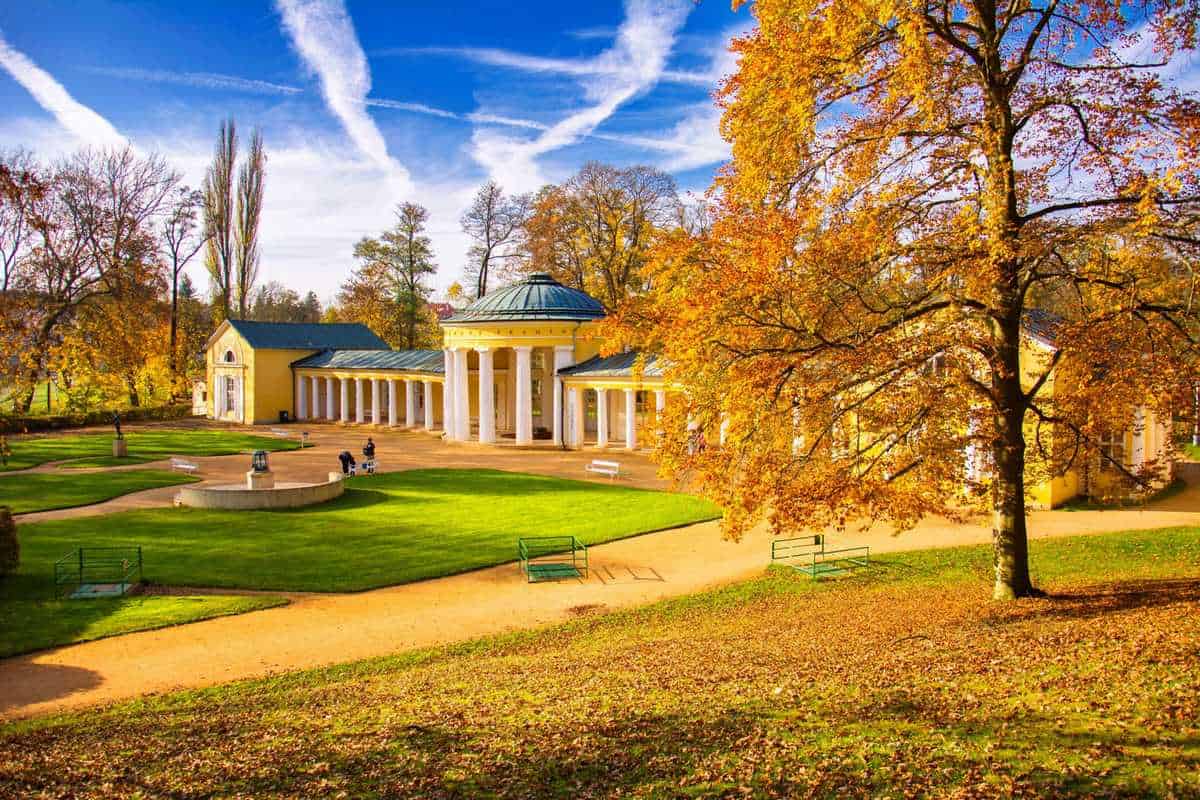 Quadruple Room Superior with bathtub (Family room)
Quadruple Room Superior (Family room) King sized room for 2-4 people  with bathtub
Breakfast buffet 08-10h
Bathtub
Extra bed
Fridge
Internet
King-sized bed
Mini-Bar
Table
TV-SAT
Washroom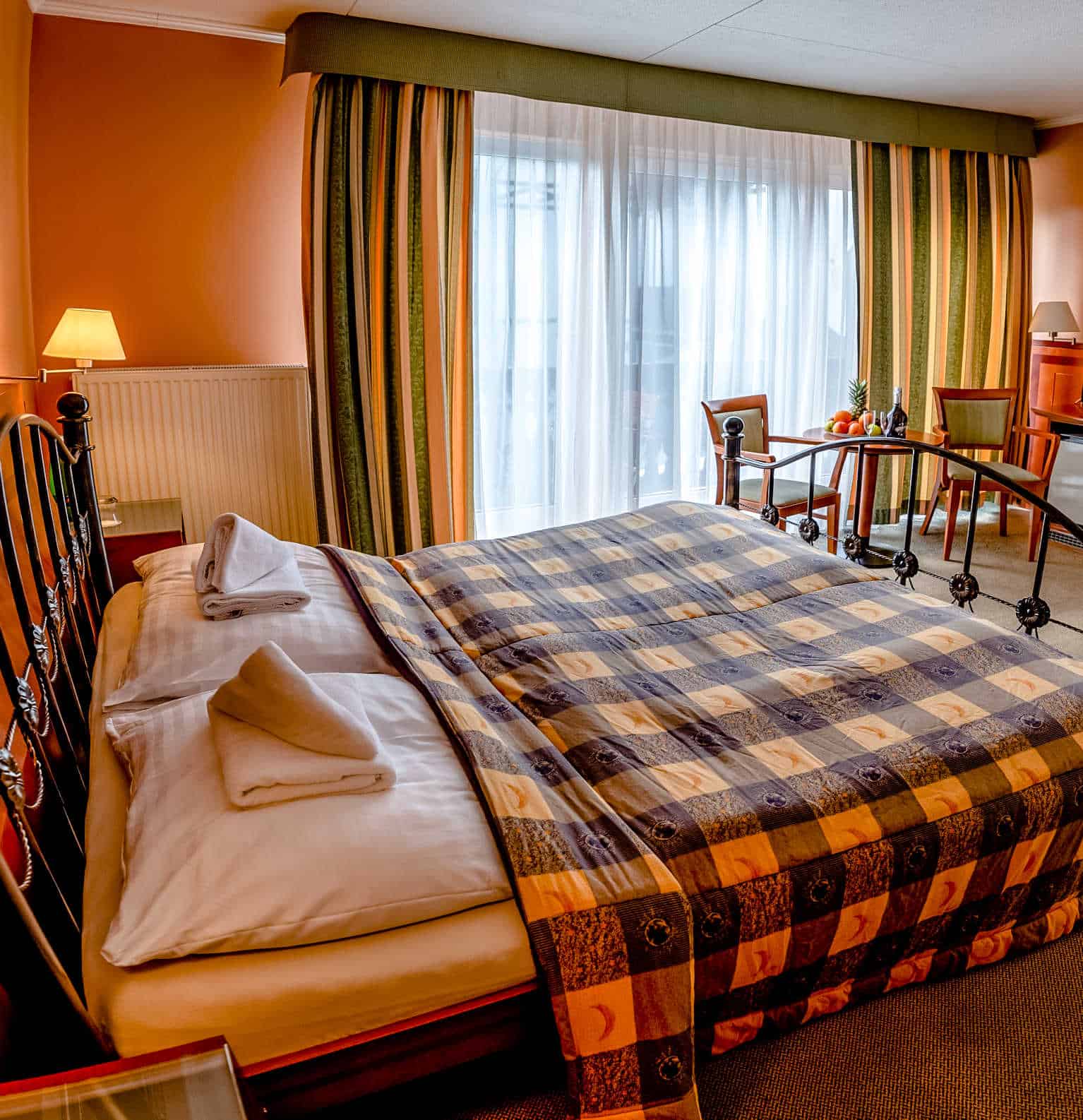 Double Superior with balcony or terrace
Double room with balcony or terrace for 2-3 people
Breakfast buffet 08-10h

Extra bed

Internet

King-sized bed

Mini-Bar

Private bathroom with shower

Table

TV-SAT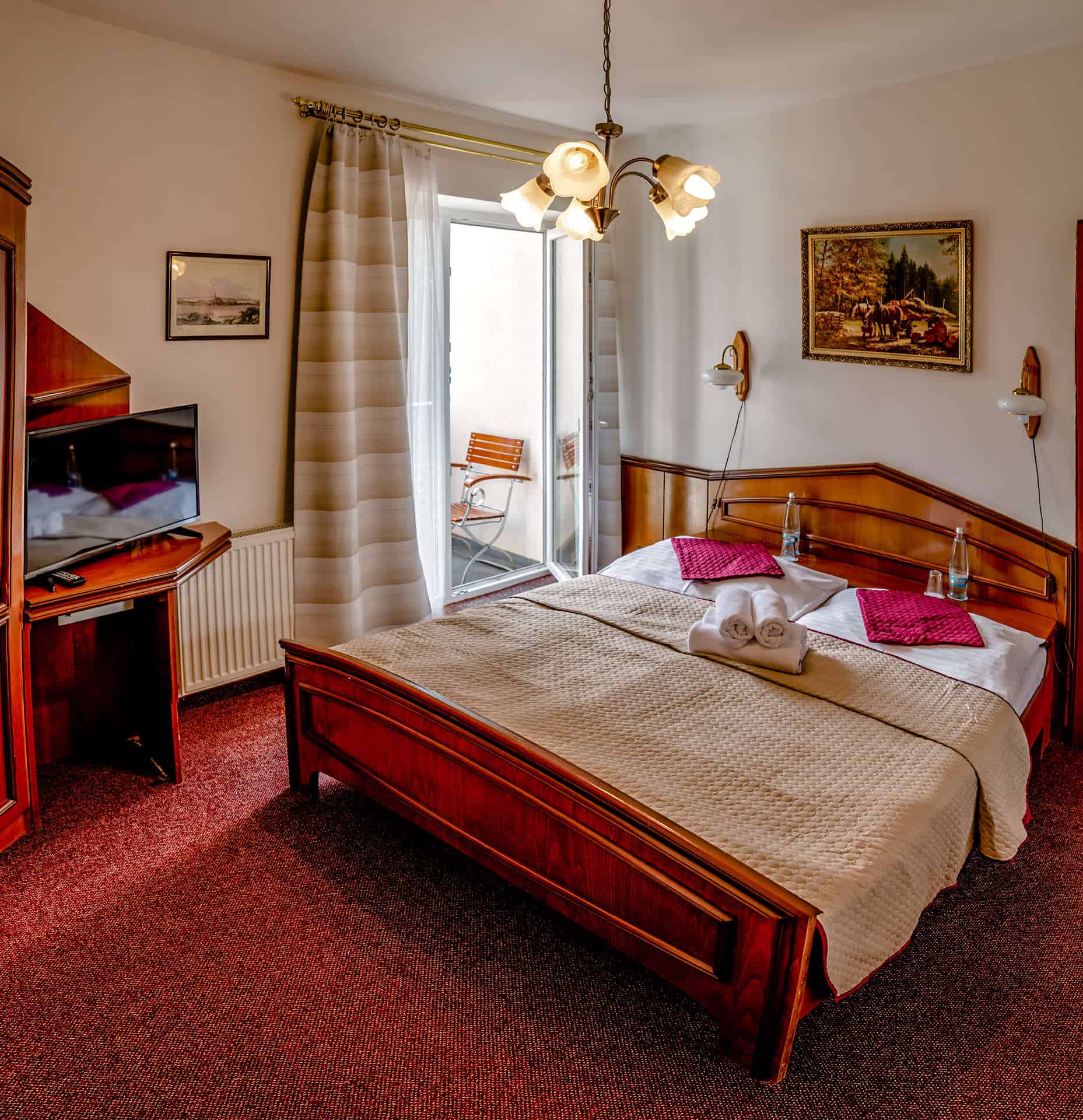 Double Room Standard with balcony
Room for 2 people with balcony
Breakfast buffet 08-10h
Balcony
Fridge
Internet
King-sized bed
Mini-Bar
Table
TV-SAT
Washroom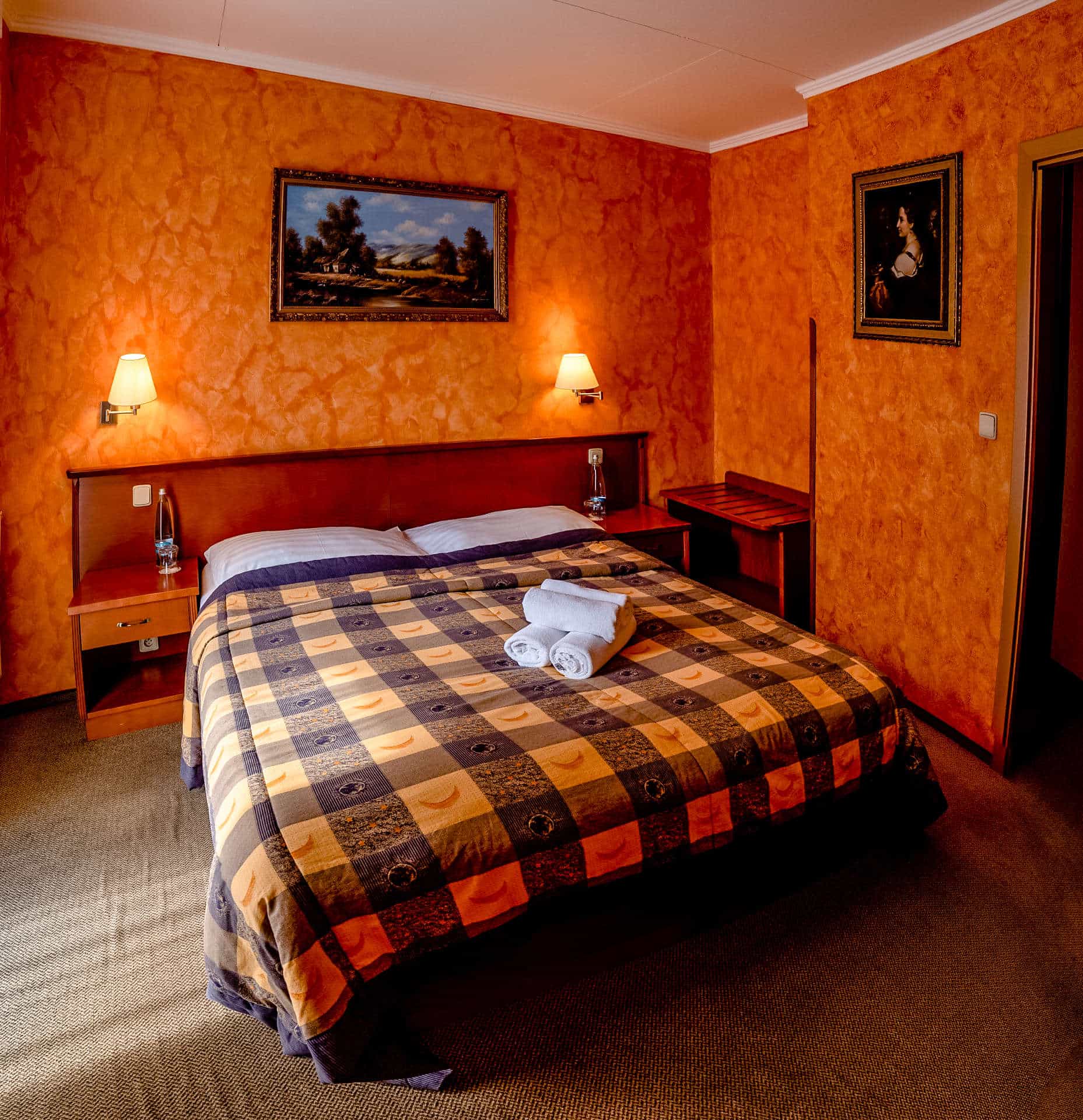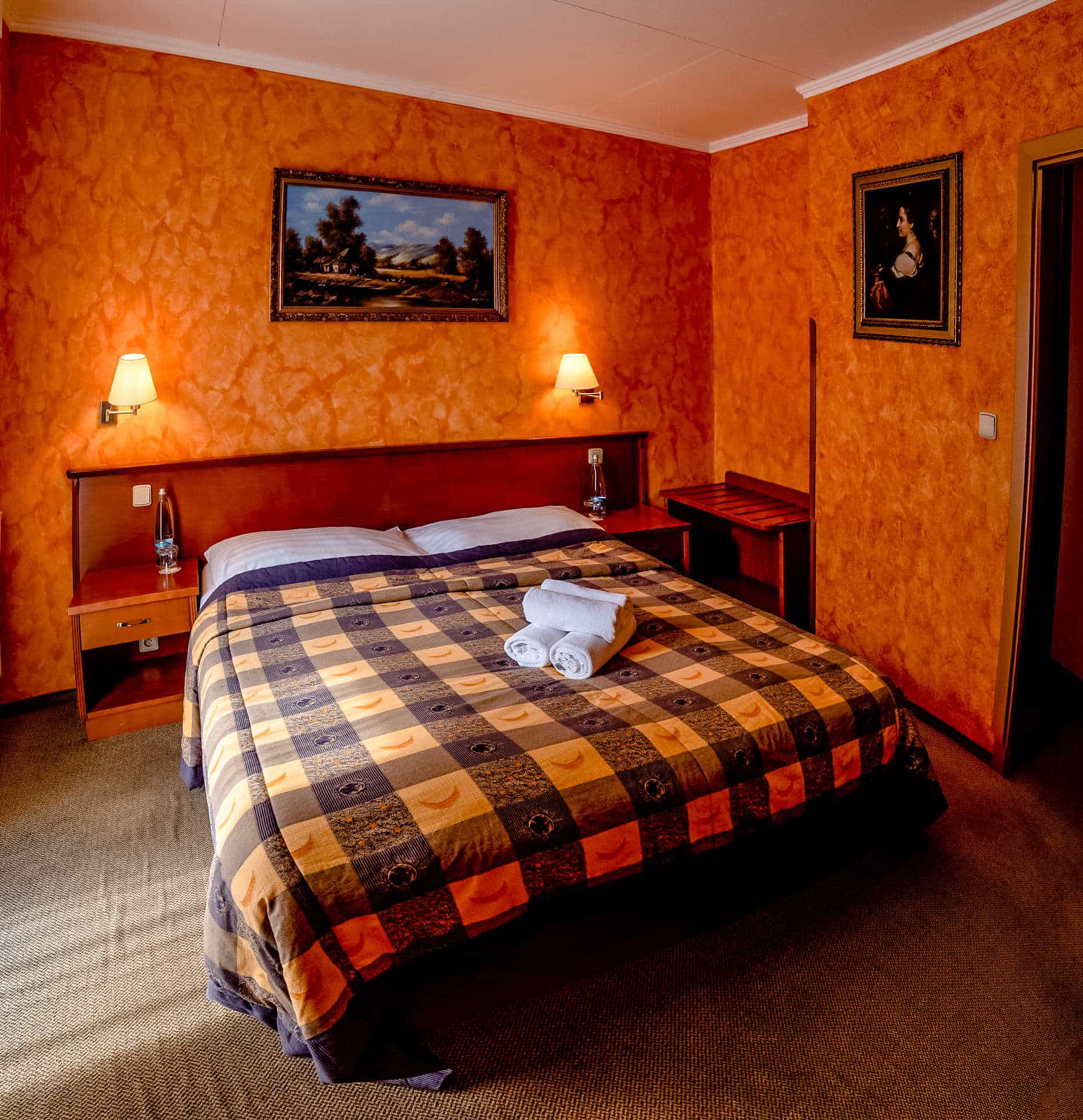 Double room Standard
Double room for 2 people with king-sized bed
Breakfast buffet 08-10h
Fridge
Internet
Mini-Bar
TV-SAT
Washroom
2022 edition
Accommodation Packages
Packages catered for a shorter and longer stay that include accommodation, half board meal plan, and a number of treatments. 
Free WiFi
Hi-speed internet connection is available in every room. No password needed.
Mini-fridge
Every room is equipped with a mini-fridge.
Minibar is checked during daily cleaning, in case of consumption you are billed against your account.
Breakfast included
we serve breakfast in the form of buffet from 8 am. till 10 a.m.
Parking
There is a parking space in front of the hotel which is free of charge. And there is parking in the hotel locked aria. This locked parking is available for 3 EUR/day
Hairdryer
Hairdryer is available in every room
Printer/Scanner
The printer and scanner are available at reception. 
Bicycle Storage
The bicycle shed is additionally insured and available with a fee of 3EUR
Checkin & Checkout
Checkin starts at 3 p.m. Checkout until 11 a.m.
House Rules
We are a non-smoking hotel.
We have several pet-friendly rooms. For availability please check with us before booking
Cancellation Policy
7 days before arrival 30%,
3 days before arrival 50%,
2 days before arrival, 100%
Open vouchers:
The voucher can be canceled within 14 days of purchase.
In case of cancellation of a confirmed reservation or change no later than 7 days before the agreed date the voucher remains in full force. If the reservation is canceled or changed in a shorter time,
the voucher will be forfeited in full, such voucher cannot be refunded. Change is possible only once for a fee or after consultation with the reception. Due to government orders to limit the provision of services to 30.04.20,
it is possible to change the deadline for free.
wellness
Spa and Balneotherapy
Top-quality medical and therapeutic care with the aid of modern medical technology and professional healthcare staff.
The balneotherapy rehabilitation center is located on the 1st floor of Schlosshotel and has non-governmental medical facility status.
Food & Drink
Balkaňeros Restaurant
Daily Breakfast
served from 8:00 until 10:00
Coffee, Tea, Water, & Assorted Beverages
the bar opened until 22:00
Lunch and Dinner
from a daily menu or á la carte
Information
Location & Nearby Attractions
Public transport
Trolleybus stop KLIMENTOV SÍDLIŠTĚ is about 20 meters from the hotel on the right side, it is a boarding and exit station. The No. 6 is on the route on working days. The No. 16 is on the route after 7 p.m. The No.16. is the only available bus on weekends and public holidays.
You can take public transport timetables on the whiteboard at the reception. The tickets can be purchased from the driver.
Sight Seeing
Beautiful spa parks, romantic colonnades, charming pavilions, pleasant cafes, and cozy streets.
Shows & Entertainment
Concerts, dance parties, exhibitions, theatre perfomances and more click here
Biking & Hiking
Bike Park Mariánky
Three downhill courses of various levels
Open daily from 10.00 to 17.30 (in-service lift, parking, and refreshments) Visit site
Hiking tips and trails here
Golf
Golf nearby
Where to play golf around here? The Schlosshotel cooperates with the following golf clubs:
You can book your start time, golf lessons, training via us.
Golf Club Kynžvart, 7 km
The golf club is located at the edge of the Slavkov (Emperor Forest). The architects took advantage of the system of the forest park of the castle.  18-hole course with PAR72.
Royal Club Marianske Lazne (Marienbad) 5 km
The oldest 18-hole golf course on the territory of the Czech Republic was created at the suggestion of the English King Edward VII. Marienbad was at that time a very popular summer residence.
Golf Club Františkovy Lázně (Franzensbad), 35 km
Golf Club Františkovy Lázně (Franzensbad) is one of the youngest and most beautiful golf courses in the Czech Republic. The 18 courses with international standards have been naturally and harmoniously integrated into the Landschaftsprofil.
Golf Resort Karlovy Vary (Carlsbad), 54 km
The former golf club with a 9-hole golf course was founded in 1904th The plan to build a new golf course has been entrusted to the most significant experts of that time, such as the Parisian architect C. Noskowski. The golf course with 18 holes was completed under his supervision in 1933
Loved the hotel and all the staff, especially the owner who is such a positive and outgoing person. It is pet and baby friendly place, we enjoyed an every day walk through amazingly beautiful forest next to the Marianske Lazne. I will come back there for sure.
We spent 6 beautiful days here. The location is great, as the hotel is surrounded by forests and there are many hiking trails nearby. I would recommend renting a bike or going for a walk. You can also take day trips to Prague. The staff is really friendly and the food is delicious – both breakfast and dinner. I would recommend taking massages and spa. All in all, see you next year!
Very nice hotel, friendly stuff, great location, good food and perfect breakfast. Pets friendly! We are definitely going to stay here again!
Friendly and dedicated personel, the food menus really exceeded the expectations. Overall I was very satisfied with my staying.
We are just staying here and it is absolutely something amazing. The hotel is in a quiet, peaceful place. Ideal for relaxation. We have a room with a balcony and an incredible view of nature. If I were a poet or a writer, I would certainly write a novel or a poem here. 🙂 The rooms are clean, tidy, including the bathroom that is part of the room. The staff is nice, smiling and caring. Part of our stay is breakfast and dinner. Breakfasts are rich and varied. Dinner tastefully and visually good. We also took the opportunity to choose ala carte and I must praise the chef. The hotel is ideally located for visiting the center of Marianske Lazne. There is a bus stop right in front of the hotel, from where the bus will take you to the Colonnade in 10 minutes. I would like to thank the whole team that takes care of us and we will certainly be happy to return. M and M 🙂
have a question?
Get in touch!